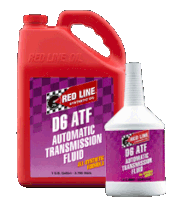 Our lowest viscosity, most shear-stable ATF for consistent operation
Designed to satisfy Dexron-VI®, Dexron-III®, Mercon®SP, Mercon®LV, Honda DW-1, Toyota WS, Mercedes Benz NAG-2, ZF-LG 6, 6+ and 8 fluids
Also satisfies API 70W/75W/80W and GL-4 gear oil requirements
D6 ATF - Quart
inkl. MwSt.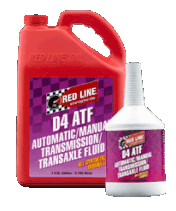 Our most versatile ATF, use where Dexron III®, Dexron II®, Mercon® and Mercon V® fluids are recommended, provides a GL-4 level of gear protection
Popular applications: Toyota Type T-III and T-IV, Honda ATF-Z1, NissanMatic D, J & K, Diamond SP-II, SP-III, Mazda ATF M-V, most BMW, Audi, VW automatic transmissions
Also used with manual transmissions and transaxles like T-5, T-45, T-56 and late-model BMW
Excellent cold weather operation
D4 ATF - quart
inkl. MwSt.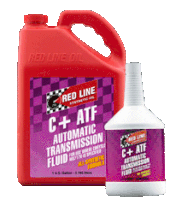 Satisfies Chrysler ATF+, +2, +3 (Type 7176) and ATF+4 (Type 9602) requirements
Provides 30% greater operating viscosity and 1/3 the evaporation of Chrysler-style petroleum ATFs
C+ATF - quart
inkl. MwSt.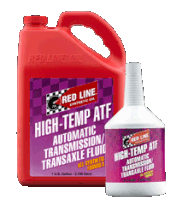 For heavily-loaded vehicles, allowing operation at up to 70°F higher while maintain thicker viscosity than traditional ATFs
Use where Dexron III®, Dexron II®, Mercon®, or GL-4 gear oil are recommended
Dramatically less evaporation, less varnish of valves and clutches in extreme conditions
High-Temp ATF - quart
inkl. MwSt.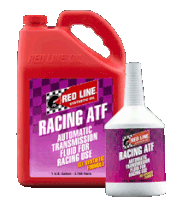 Similar to a Type F fluid, featuring even higher viscosity and no friction modifiers
Produces faster shifts, quicker lock-up, better converter efficiency at high temps
Enhanced extreme-pressure additives provide 5-times better film strength than petroleum ATFs
Reduced clutch and gear wear compared to petroleum ATFs
Satisfies GL-4 gear oil requirements
Racing ATF- quart
inkl. MwSt.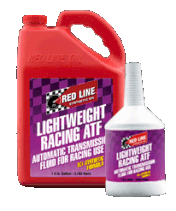 Superior consistency and wear protection for Bracket and Heads-Up drag racing transmissions like Powerglide and Turbo 400
Popular with turbo and blown doorslammers like NMRA, NMCA, ORSCA, and PSCA -- replaces hydraulic oils and other non-ATFs used to escape heat issues
Low viscosity offers less frictional drag for quicker ETs and more MPH
Dissipates heat for longer trans life, better clutch, gear, and seal life
Compatible with petroleum ATFs and other brands synthetic ATF
Extreme-pressure protection provides much better film-strength
Lightweight Racing ATF - quart
inkl. MwSt.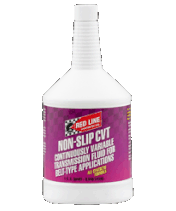 Designed specifically for use in metal belt-type Continuously Variable Transmissions including including Mini, Nissan and Subaru
Includes anti-wear additives for improved metal-to-metal protection in torque-converter clutches and offers consistent performance over broad temperature range
Synthetic basestocks offer improved shear characteristics, improved thermal stability, and extended drain intervals (up to 30,000 miles, follow manufacturers specifications)
This product is not recommended for use in Honda vehicles with wet-start clutches, clutch-type CVT in Audi applications, torodial or dry units
Non-Slip CVT - quart
inkl. MwSt.